Armani
at 30 years old Armani is a Jamaican-American, Artist/Creator (Photographer, Painter, Actor), Author and Mentor among many other things.
He is a creative, traveling, freelance artist born & raised in Philadelphia, PA (currently living in NYC). From photography to pouring positive energy into others Armani prides himself on creating natural, raw and uncut art work that speaks volume. His work including photography, paintings, written materials, and more always sheds light and brings awareness to many different important life aspects such as Self Love, Respect, Honesty, Equality, Transgender Rights, Community, the importance of Art and the expression of life through it.
Armani is the middle child of his siblings. Raised by both his mother & father as he says are the "best parents a person could ask for". Armani grew up with a big and very supportive family (extended and blood related).
Armani's parents allowed him to be free as an individual from 7 years old, from his attire and gender expression to traveling on his own out of state at the young age of 13. Once he traveled to New York City on his own via greyhound bus he told himself he would never stop traveling. From that moment Armani set out to travel the world after struggling to finish both middle and high school as well as the two colleges he attended while also struggling with other issues as most young adults do.
During his teens Armani had always loved music, movies, swimming and helping others. Still today his favorite things to do are swimming (all year round), singing, writing, acting and taking photographs. In fact as he is traveling the world he does those exact things which "helps him create greatness" as he says. Armani has now had his work featured and showcased on TV, album covers, websites, in newspapers, magazines and more.
Armani has traveled through many states and Canada, partnering with many LGBTQ+ people, companies and organizations to make a difference, bringing awareness and change. While traveling Armani published his first book "Exposed Truth: Photo Book" by ArmaniDae [with Hope After 20 Publications] adding the title Author to his name. From all of his experiences including parenting Armani has made the best of life through all of his trials and tribulations. Getting one step closer to his vision of success each day he maintains an optimistic mindset even when times get hard. Living each day like it's his last and never holding back Armani is traveling the world and bringing change, one place, one helping hand, one smile at a time.
PHOTOGRAPHER
- In December 2010 shortly after obtaining his Associates Degree in Business & Accounting, Armani began his art journey in Photography. He owns his freelance photography business ArmaniDae Photography usually shortened to ArmaniDae. Armani's art and photography consisted of (but not limited to): Portraits, Boudoir, Head shots, Album Covers, Weddings, private and public events like Casting calls, Baby showers, Engagement Parties. etc.
Recently he stated that he is "only capturing portraits, weddings and specials projects unless otherwise specified", while also creating his other art forms.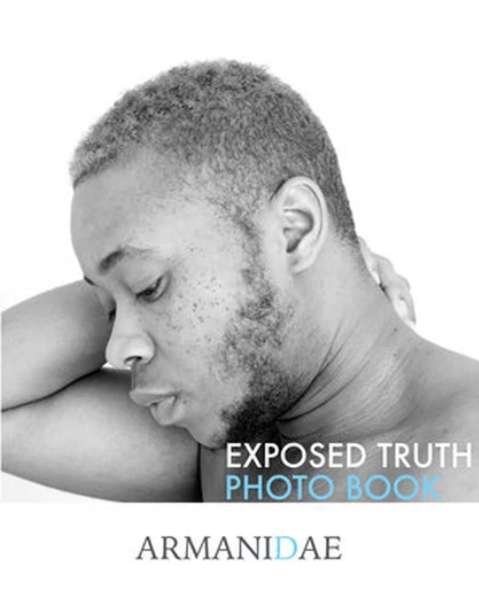 AUTHOR
- Armani is contracted with Hope After 20 Publications as an author and editor. In 2017 he published his first book: Exposed Truth: Photo Book a narrated opinion of Armani's accompanied by his photography, testimonials & opinions of others. The book celebrates the beauty of Transgender, Gender Non-conforming, Gender Variant and alike bodies that identify outside of the gender binary. The book is also made to educate its readers and fight against the misconceptions of the bodies. Purchase your copy here Armani's Store.
Recently he published his second title WiLd series, a three part chapbook collection. Each book is named after a wild flower with double meaning as pertaining to his life. Hyacynth, Bachelor's Button and Touch Me Not are all available for purchase, get your copies here Armani's Store .
PAINTER
- In 2017, after many visions and questions of how to put his chaotic yet beautiful and inspiring thoughts and experiences on paper mixed with a little paint/mixed media, Armani began painting.
Mostly using acrylic paint and marker, All of his paintings are one-of-a-kind, original paintings, ranging from sizes 4 x 6in and up. His paintings are his creative, colorful way of expressing not only the chaos and beauty in his life but what he see's in the world too.
Armani not only paints on canvas and paper but he now has custom, original, one-of-a-kind painted tumbler cups and puzzles. Check availability here.
ACTOR
- In 2010 Armani began acting. [Still in the beginning stages of his acting career] Armani holds 6 acting roles (3 speaking and 3 background/extra) under his belt. His three speaking roles consist of: Photographer/Paparazzi in CMT's Nashville, a News Reporter in Will The World End or Evolve 2012 ? and a Bully in Student Bullies/ Hidden Tears Part 2. His three background roles were played on Nashville and more recently 2019 he was in SCARLET a short by TLK FILMS in New York City.
Armani has also been featured in two documentaries that are still in production as well as his own projects to come. He hopes to book more speaking roles in the future.
Mentor / Volunteer
- Armani with ArmaniDae [Photography] is always joining forces with organizations across the U.S. to help bring awareness to the LGBTQ+ community, their rights, equality and more. A few organizations that he has teamed up with to name a few are: Trans Liberation Collective, Brave Space Alliance, BI4J, TWOCC, HopeAfter20 Publications, CK Life and HBGC Boston. Yours could be next!
Armani effortlessly gives back to his communities in any way that he can. He is always giving advice to others and lending a hand or shoulder to lean on. He was asked to return to his former middle school in Philadelphia to speak to the youth there about his time attending, adulthood, owning a freelance business, life.
Armani has mentored youth ages 14-21 with JumpOutCity in Philadelphia, PA and its surrounding areas. He has volunteered with Philly Fight doing outreach, helping people get tested for STD's, STI's, AIDS/HIV in Philadelphia, PA. He currently volunteers with GMHC in New York City.